The SUBICCON Corporation, an ISO 9001:2008 certified company, continues to be the preferred partner of the Department of Public Works and Highways (DPWH) Region 3 and the Private Infra Development Corp. (PDIC) in most of their projects in Central Luzon.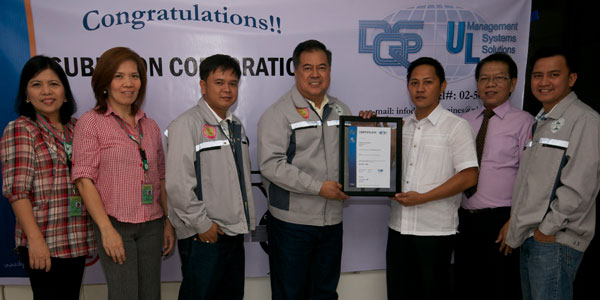 According to Nelia M. Mostales, representative of SUBICCON management, the company has been implementing and maintaining quality management system for construction services and supply of ready mix materials since its accreditation with the International Organizations for Standardization (ISO) in 2013. Michael Drechsel, president of the International Certification Network (IQNet) and Gotz Blechschmidt, managing director of DQS GmbH, signed the ISO certificate for SUBICCON.
Under the ISO standards, the company is committed to deliver excellent service and materials to its customers compliant to the specifications and standards of the international business community. It should also continuously improve its systems, policies and procedures in administrative management, operations and manpower management.
The company, under strict guidelines of the ISO, has also committed to prevent pollution, provide safe working conditions for its personnel, provide social responsibility initiatives and comply with relevant regulations, codes and standards.
"Being an ISO certified company gives us more credibility in the construction industry. It is not easy complying with the ISO standards but we are happy and proud that we passed their audit. We have just completed the audit for certificate's maintenance. We reiterate our commitments. We are strong and sustainable because of our ISO principles," Mostales said.
SUBICCON has completed major infrastructure projects for DPWH Region 3 as well as PIDC, the main contractor for the Tarlac-Pangasinan-La Union Tollway (TIPLEx). SUBICCON completed a P430-million asphalting contract with PIDC.